We arrived in Saint Petersburg half way through the White Nights festival, which runs from June to mid July. Sharing the same latitude as the Cities of Oslo, Helsinki and the State of Alaska, St Petersburg turns to  twilight between 11 00 pm – 3 30 am, never getting dark, hence the "White Nights". It's a very European feeling city and on the surface a tolerant place, growing in confidence; and lot's of very bad parking as there seem to be no restrictions. High end European cars are everywhere, driven around the city at frightening speed, only intrepid babushka's daring to step out.
I was last here in 1993 and it was very different then with it's faded grandeur, Lada's on the roads,"not the fridge kind" and one spectrum of lightbulb for everything and no neon or advertising.
We found plenty of good places to eat, vegetarian too and the coffee there was superb along with the local honey cake.
Finland Station Saint Petersburg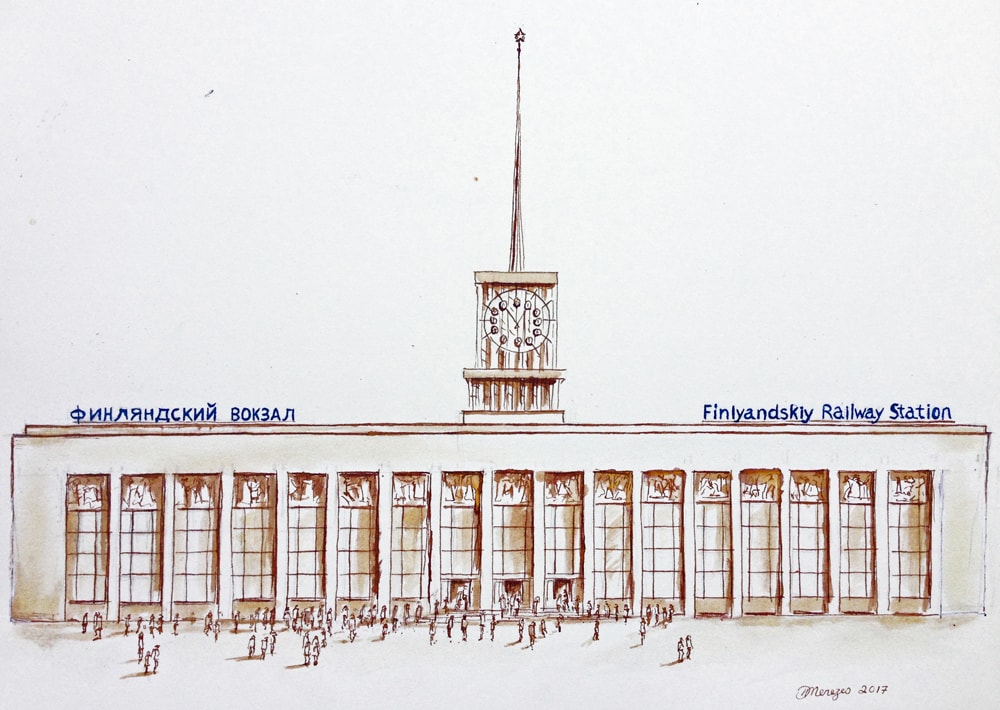 I love Russian history and so much of it is tied up in it's architecture. It's a good thing that Russia is currently refurbishing a lot of the Tsarist palaces burnt down or looted over the past 100 years, as they seem to sit comfortably alongside the Stalinist/Soviet architecture as a reminder of excess on both sides.
Statues are everywhere in Saint Petersburg and none is more striking than Lenin outside the Finland Station. This was the station he arrived at from exile in Switzerland in April 1917, biding his time before the overthrow of the provisional government by the Bolshevik's in the October Revolution. The train he arrived on is preserved in a glass box on the station platform just like the man himself in his marble mausoleum in Moscow's Red Square.
Polo Regatta Hotel on the Gulf of Finland Saint Petersburg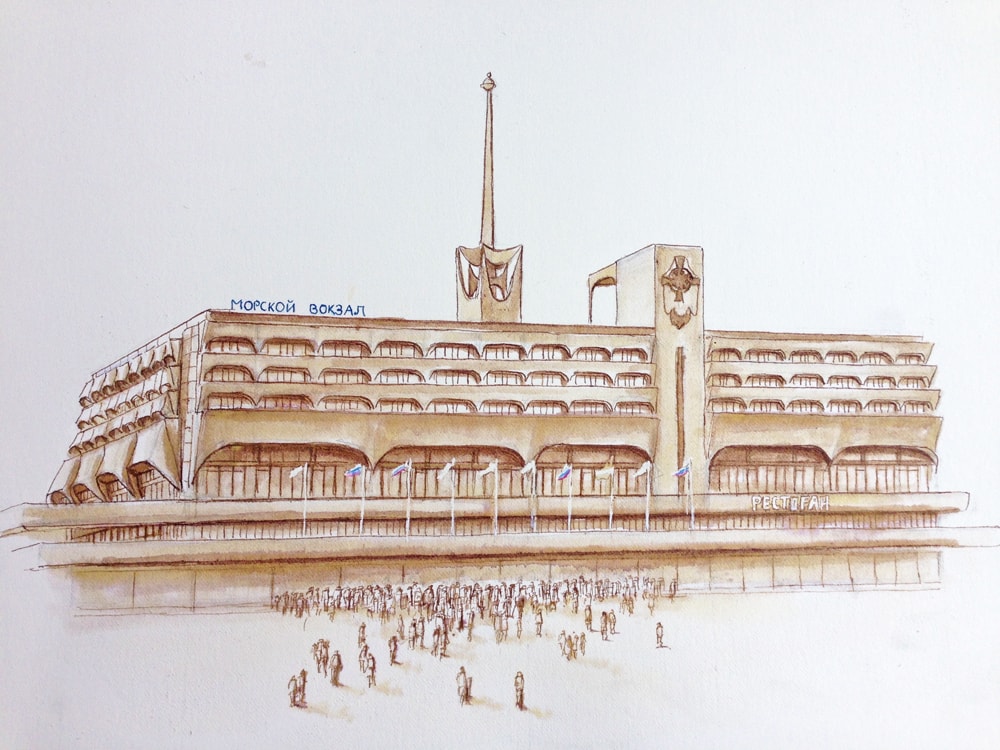 We visited this hotel on the seaport as it looked 'proper' Soviet on booking.com, the staff there looked bemused that we wanted to explore the building but not stay (Good value but poor ratings) besides ports are an entry point for all number of things. A cruise ship had just docked, off loading a colourful collection of tourists. One of whom, a very elegant Chinese looking woman with beehive hair was focused on selfie-ing on a gorgeous Soviet stairwell, (and she was to be seen again later in the crush of the Hermitage Museum).
Before the Hermitage we visited the Saint Petersburg museum of contemporary art Erarta and what a delight this was. Room after room of surprises, Soviet art with a modern twist, installations, sculpture and photography. The photography was particularly powerful capturing the ordinary lives of Russians of all Ethnicities. First class food in the restaurant to boot, well worth a visit.
The State Hermitage museum is home to the largest collection of paintings in the World and 2nd in ranking in size after the Louvre. Having overdosed on art, just marvelling at this breathtaking building, was enough (they do like a bit of gilding the Russians). It's so vast you can find yourself alone in some of the rooms and the next moment trapped by hordes of coach parties, cue our second sighting of the beehive lady modelling an evener grander staircase.  Next stop the  station for the overnight Grand Express to Moscow                                                                            
 Moscow State University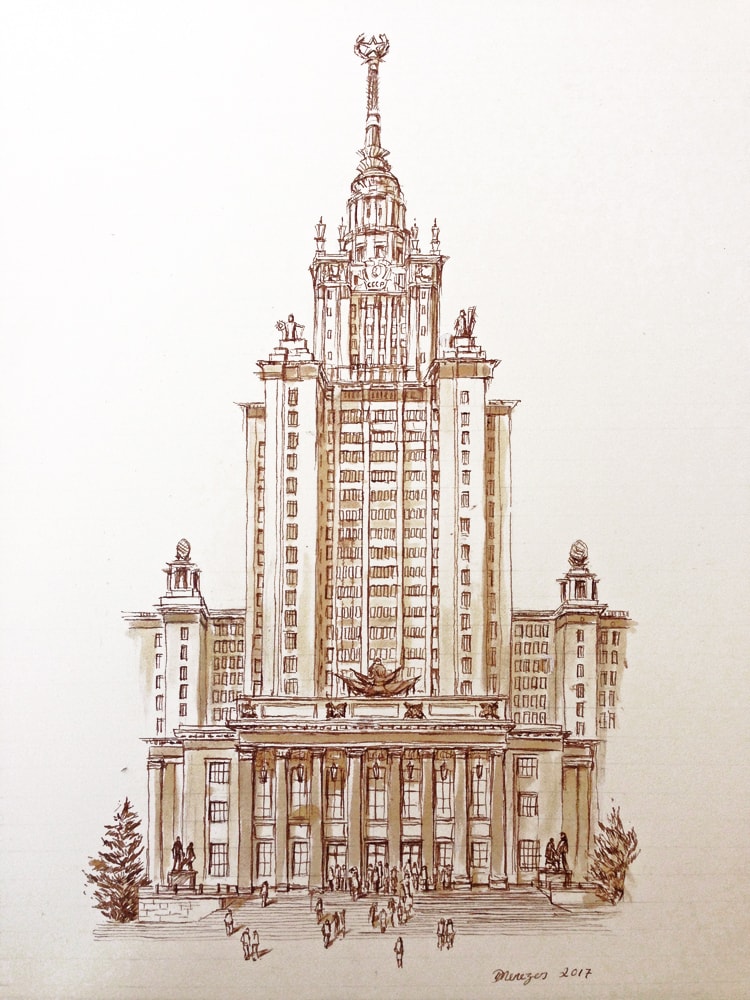 Moscow on arrival felt more Russian than Saint Petersburg, you could see it in the faces and the buildings; in both Cities practically everyone lives in  apartment blocks, there are no gardens but lots of trees in the spaces where gardens should be. The lack of gardens is more than made up for by the massive civic spaces and parks, all beautifully kept. In fact very much like the whole place, so clean, no litter, and tiny bins, there's some sense in that. Going underground  is quite opulent, down escalators to some of the deepest stations on earth, one described as looking like a carved out lemon gateaux, chandeliers and bronzes all helping to lift your spirits from what ordinarily is a chore.
I have just skimmed the surface here but for more of a feel of  what I'm describing click on to my mini movie below. And for more information on the illustration above, Stalin's buildings, click here