London's skyline has changed dramatically over the last 15 years, becoming more akin to a mini New York. With the rate of one building a week of 20 floors and over, being completed. Todays boom of tall buildings started with the finishing of the Gherkin in 2004.  As part of the planning application, all of them have some kind of public access, because offering spectacular views across central London is gold. A lot of them also have a charge but the ones I've illustrated here are absolutely free.
                                                                        THE SKY GARDEN 22 FENCHURCH STREET
A giant glass conservatory on the 43d floor, offering great views in all directions. I really liked the view of the Shard, due south, from the outside viewing area. And looking east the Tower of London, moated next to Tower Bridge. Scarily I liked the planes, banking closely to the viewing gallery, on their  final approach to London city airport. To sum up, well worth a visit.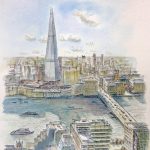 Below Illustration : looking south east. Tower bridge, Bermondsey Rotherhithe and Greenwich.                                                                                                                                  Below right illustration : Looking west. The iconic St Pauls Cathedral and the Barbican

                                                  THE TATE MODERN EXTENSION  (Illustrated below is the view from the gallery)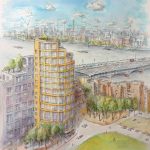 Rising up like a Mayan temple from the jungle floor, this architectural wonder has to be one of my favourite London buildings. Pyramid shaped with a 10th floor viewing gallery, It really has been built with London's history in mind.
Looking out from the battlements you get a cheeky view of some super expensive goldfish bowl apartments and London's newest building – named "The Vase" at One Blackfriars.
Below are some links to the buildings featured and to one more I plan to visit.