House Portrait Commissions – Pricing & Sizing
House Portrait Commissions begin at £75 and make great gifts
House Portrait Commissions
I have a passion for drawing and painting buildings, especially houses. I bring them to life and my interpretation encapsulates the life of the house, the internal and external environments of past and present.
A client recently commissioned me to paint the outside of her Grandparents home, as it would have looked fifty years ago. She provided me with examples of the colours and some original photos. From these I was able to re-create, in watercolour, the front door, flanked by the two original rose bushes that were in situ when her Grandparents first crossed the threshold.
How do we start?
You live in Brighton or the surrounding area, we can meet to discuss your requirements. If you live further afield, you can email me clear photos of the building, and I am happy to finalise the commission by email or with a phone or Skype call.
It's all in the detail
Every picture tells a story and I like to suggest we include the little details. Family pets, cars, trees and bushes, positioned within the painting can personalise the scene and add untold sentimental value. CLICK HERE
Preview
Included in my pricing is an email of a preliminary sketch of the commission, for you to make any amendments to the picture before the final work is completed. Once you have approved the preliminary sketch, I will produce the final picture to your specification and email the artwork to you for your approval. Examples below.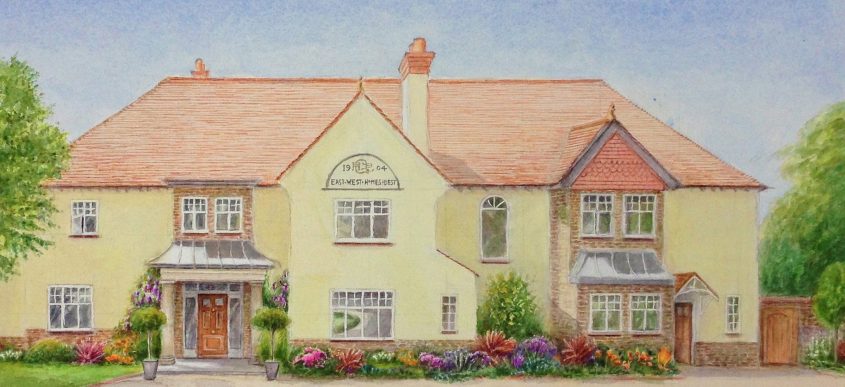 Wickham House Dyke Rd Brighton. The tree on the right was added to hide the house next door.                                                                                                                                                                                                                                                                                                                                                                                                                                                            Prices                                                                                                                                                             A3 £300  A4 £150 A5 £75.                                                                                                                                                                                                                              All illustrations come with a white border
Postage and packing £8 (within the UK
Framing can be included at an extra cost
For more information please email me