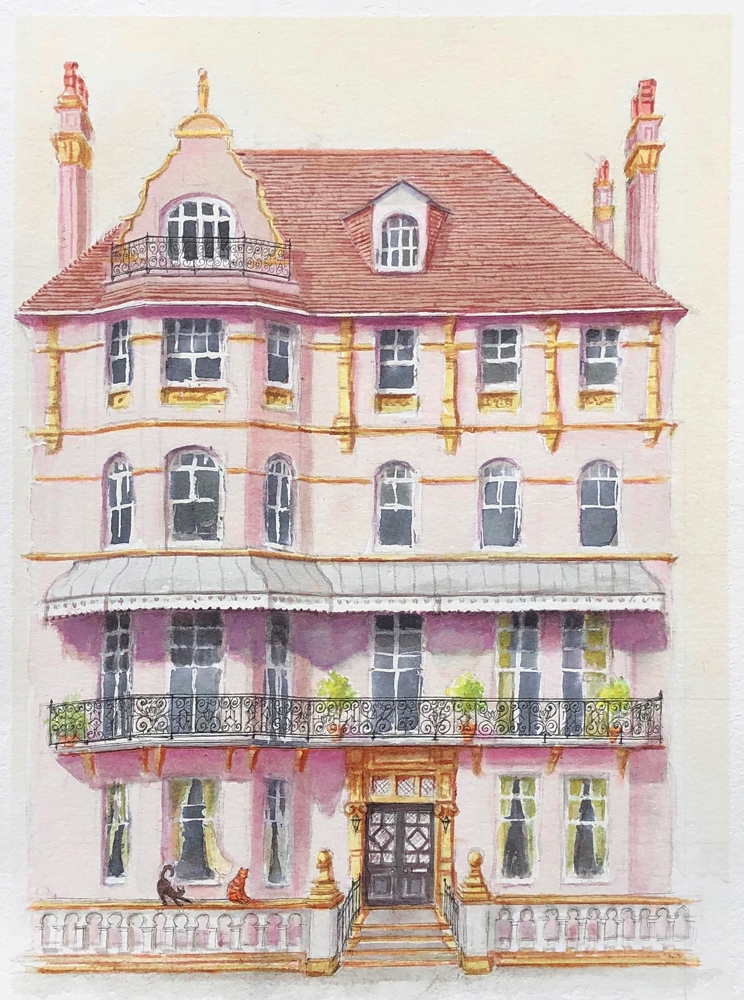 House Portraits – The perfect gift from £75
Thinking of commissioning a House Portrait or any other artwork, for yourself or as a gift. Here is all the information you need. Including the process, prices and testimonials.
How do we start?
Email me your vision, and preferred style for your house portrait or any other illustration you would like created – My range is wide and I'm happy to try new things – Essential : Clear photos, especially of people and pets, clearly showing their shapes, characteristics and colours.
Email all your requirements to me at darrenmenezes@icloud.com  I will then contact you to discuss all the details. (I'm happy to talk on the phone if you prefer)
The narrative
Every picture tells a story. It's good to include elements that show this. An event outside the house, a new school year, garden parties, weddings, a prize garden. (Past or present). It's imperative that you send clear detailed images of body shapes, statures, favourite clothing/ornaments, so I can position them within the picture sympathetically.
Preview sketch
Included in the price is a preliminary sketch of the commission which you can make changes to before the final work is started. Once you have approved the sketch, which I email to you. I will email you a photo of the final work for your approval. You can see in the digital sketch below that the wisteria is a big feature of the house, as is the cedar tree to the right. The client wanted the the tree moved to the left behind the house and more trees behind, in keeping with what was actually there.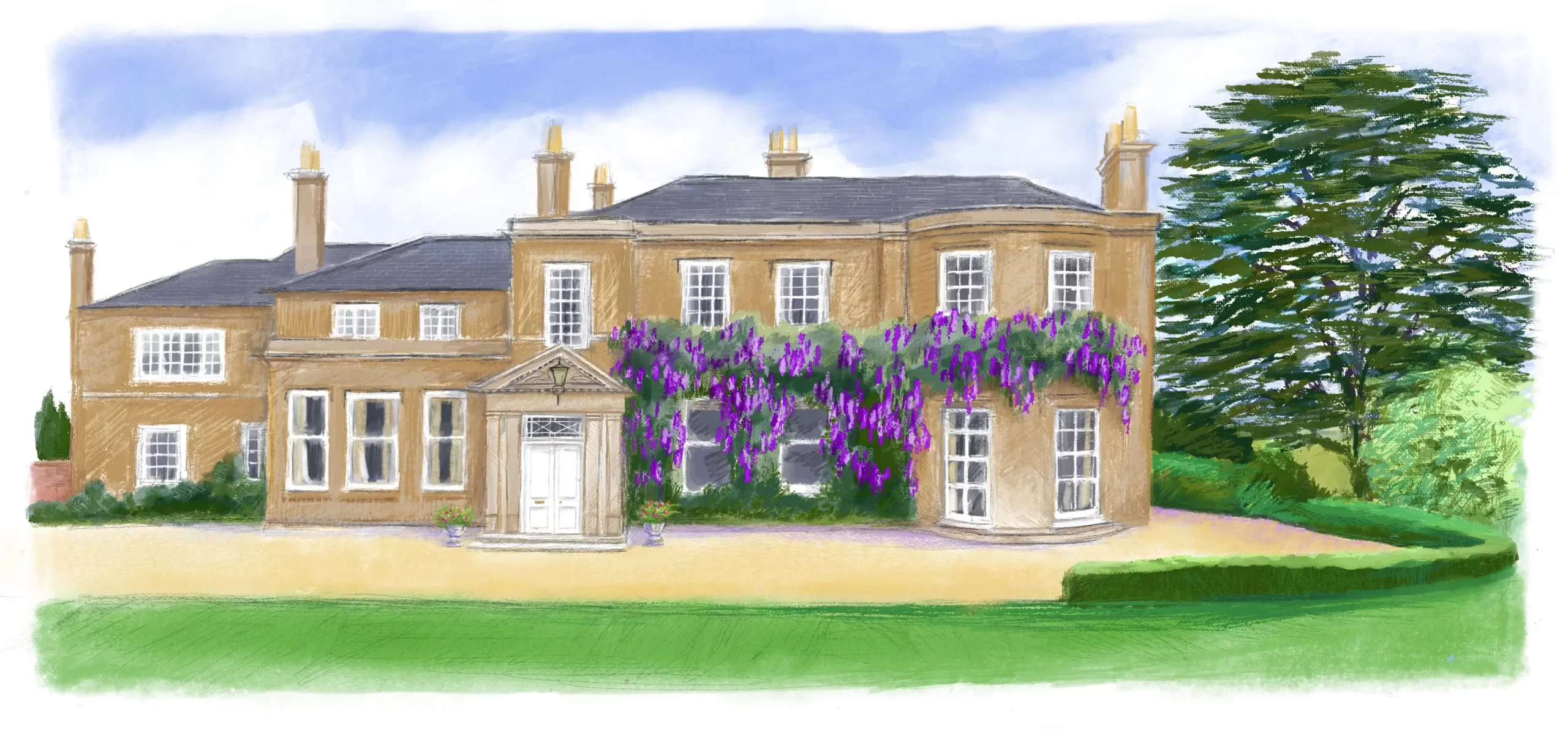 ---
Prices
Large postcard – £75 (approx 14x19cm)
Makes an ideal birthday card
Quarter Imperial – £200 (approx 28x38cm)
This is a bit bigger than A4 (recommended)
Half Imperial – £300 (approx 38x56cm)
This is a bit bigger than A3
I use Saunders Waterford High White 300lb (640gsm) paper. It comes in Imperial sizes but I have shown it in centimetres and approximate standard paper sizes as a guide.
All illustrations come unframed with a white border:  Postage and packing (£8 within the UK)
---
Testimonials
7 reviews on
Lauren Hobson
16. January, 2021.
Darren has produced 3 beautiful house portraits for me in the last couple of years, all of which ended up being very touching Christmas presents for my friends and family. The time and effort that Darren puts into the initial communication process when you first contact him is amazing; he wants to get a feel for who you are and what kind of commission you want. It really feels like he cares about the background of the property and your connection with it which is so visible in his brush work, especially when he adds in the extra quirks like your dogs outside the house! He tells a story with his paintings and it's a story that he cares about. Thank you Darren, can't wait to use your skills again in the future!
Diana Bridger
11. January, 2021.
I asked Darren if he would be able to paint a large seascape for my living room. I had been looking for ages and could find anything I liked. We spoke about what I was looking for and Darren drafted some ideas. I am so happy with the finished article, it's beautiful. It cost a very reasonable price and its a million times better than any print I could have bought. So happy with it. It's usually behind me on all my video calls and everyone compliments it. Thanks Darren.
Jacqueline Lance
11. January, 2021.
I commissioned Darren to paint a seascape of Brighton including the Palace Pier and my four dogs. The painting is wonderful - beyond my highest expectations. I love it and recommend Darren highly as his work is breathtaking and outstanding. Thanks so much Darren for my amazing and unique painting.
James Smithdale
11. January, 2021.
Darren is a fantastically talented artist. I have commissioned two pieces of work from him and I have been delighted both times. His attention to detail is superb and the finished product is of a very high standard. Both times there was fast turnaround and Darren kept me informed throughout. I would highly recommend him and his work.
Jo Fuller
11. January, 2021.
My friends commissioned a picture of me on the balcony of my beloved Victorian Terrace in Hove for my 50th Birthday. It was the most personal and thoughtful present that captured a moment in time. Darren's personalisation and attention to detail have made this not only a beautiful picture but a lasting memory of a beloved home and a landmark birthday (in lockdown!).
Kathryn Hellewell
7. March, 2020.
Darren is a joy. We feel privileged to have three of his originals in our house and I expect many more to come. I commissioned one of my two boys as a Father's Day gift and it's just brilliant. .
Sara Sanders
14. May, 2019.
Darren is an absolutely fantastic artist. He is so accommodating and so lovely to deal with. I have commissioned 4 works from him to date and have been thrilled with them all. They make fabulous housewarming gifts for friends. Always so well received, people are genuinely immensely touched at how personal they are. He manages to capture the personality of the houses brilliantly. It is everything you want - Amazing product and incredible service. Thank you. I will be back...
Venetia HP sauce
17. January, 2018.
Darren did the most gorgeous house portrait for me and I could not be more delighted! He really tailored it to what I wanted and brought the building to life. I cannot recommend this wonderful talented man highly enough!
---
Contact
For more information please email: