House Portrait Commissions begin at £100 and make great gifts
House Portrait Commissions – Pricing & Sizing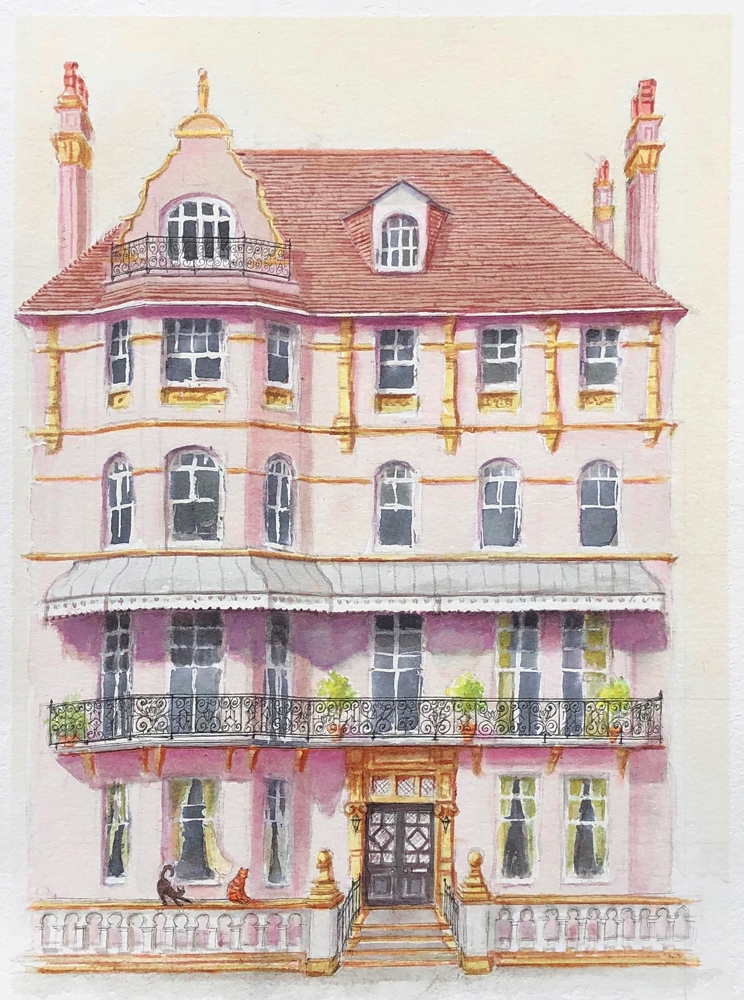 My passion is drawing and painting buildings, especially houses. I bring them to life and my interpretation encapsulates the life of the house, the internal and external environments of past and present.
A client recently commissioned me to paint the outside of her Grandparents home, as it would have looked fifty years ago. She provided me with examples of the colours and some original photos. From these I was able to re-create, in watercolour, the front garden, and the two original rose bushes in situ when her Grandparents first crossed the threshold. See the finished house
Quick links
I'm now offering 2 new services, life journeys and recipes, for more information click here
Preview sketch
My pricing includes a preliminary sketch of the commission, which I will email to you, for you to make any amendments, before the final work is completed. Once you have approved the preliminary sketch, I will produce the final picture to your specification and email the artwork image to you for your final approval, before delivery.
Wickham House Hove
The client wanted me to focus on the main entrance of the house and the plants in front. Which required me to move the tree on the left. Another tree was placed on the right, to screen out the neighbouring property. 'Personally I like to include some of the peripheral landscape'. I also reduced the size of the fountain in the foreground to lessen its impact on the painting.
Finished house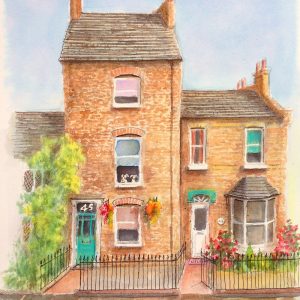 How we start
If you live in Brighton or the surrounding area, we can meet to discuss your requirements. Or if you prefer, or live further afield, you can email me clear photos of the building – or anything you wish to be illustrated. I am happy to finalise the details by email or by phone.

Tips
Small details can be removed or added under the guise of 'artistic licence'. Trees, shrubs, fencing and street furniture for example. I'm open to your ideas and happy to go in new directions.
'Sometimes a garden gate might be hiding a beautiful tiled path'. If you would like a family pet included, a clear photo capturing the shape and distinguishing details. The Italian scene with the pool was a wedding venue commission, for which I removed the solar panels from the roof and added colour with the poolside parasols. Bombard me with images and I will pick the best from the crop that will make your painting beautiful!
Prices
A3 £300
A4 £200
A5 £100
All illustrations come with a white border: Postage and packing (£8 within the UK) Framing can be included for an extra cost.
For more info please email:
An illustrated story of your life (up to 6 illustrations per page)
What could be more special than having created for you, a piece of artwork to remember the special places and times within your life. Where you met – Your favourite trips – Yours or your loved ones schools. And so much more. This is a very personal piece and makes a great gift for any special occasion, such as a wedding anniversary – A retirement gift – a birthday, Valentine or Christmas present. Prices are the same as for house portraits
Australian life journey
Your favourite recipes illustrated
Old and favourite family recipes lying in drawers, scribbled in tattered notebooks, needing updating – Framed taking pride of place, in the kitchen. There's a multitude of gift ideas here. I only do A4 sized on watercolour Artboard or heavy duty paper. They are hand written with an ink dip pen and painted with watercolours and inks for a set price of £150
Food art
Testimonials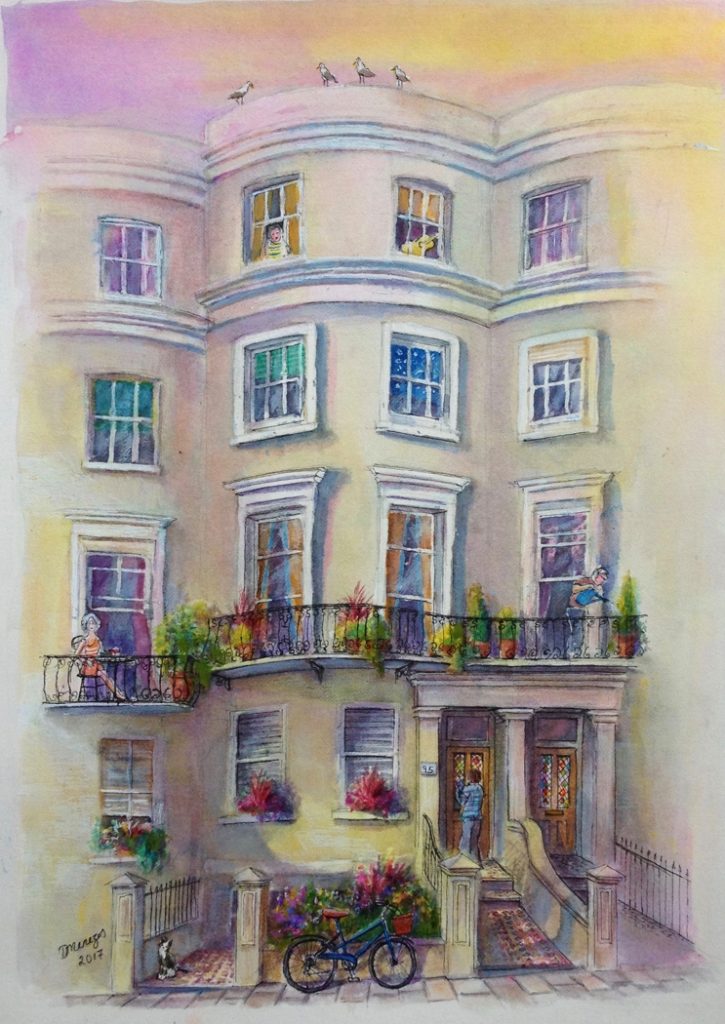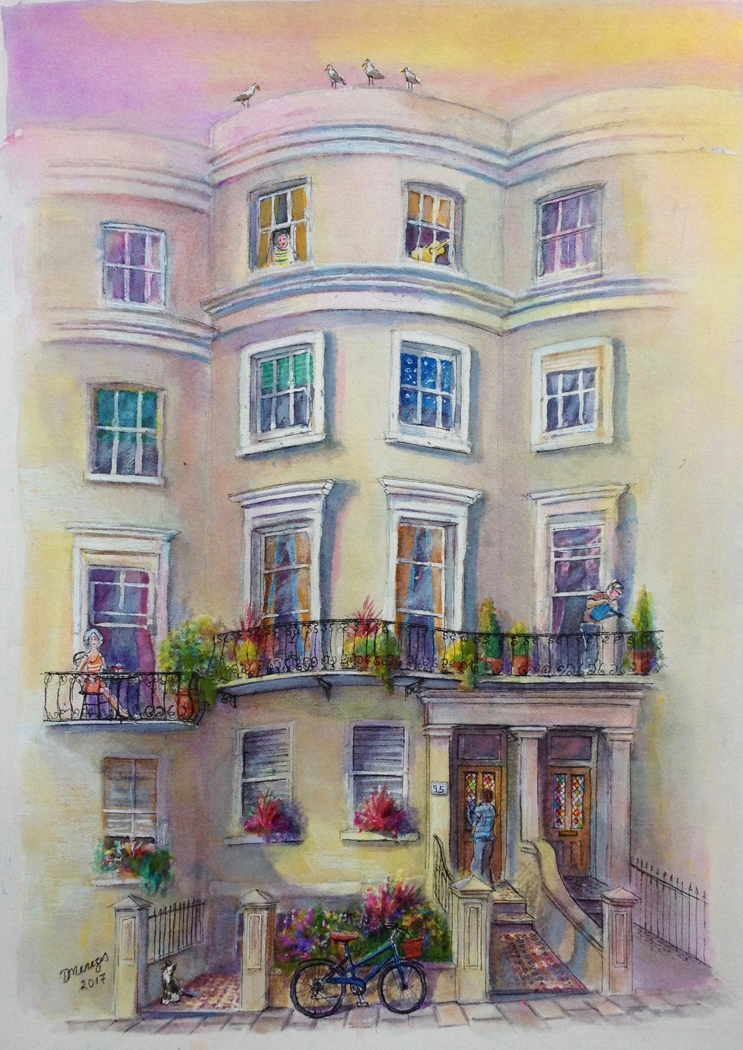 Venetia Powell Darren did the most gorgeous house portrait for me and I could not be more delighted! He really tailored it to what I wanted and brought the building to life. I cannot recommend this wonderful talented man highly enough!
Sara Sanders2 Darren is an absolutely fantastic artist. He is so accommodating and so lovely to deal with. I have commissioned 4 works from him to date and have been thrilled with them all. They make fabulous housewarming gifts for friends. Always so well received, people are genuinely immensely touched at how personal they are. He manages to capture the personality of the houses brilliantly. It is everything you want – Amazing product and incredible service. Thank you. I will be back…
---